2011 has thus far been a busy year for LMP and the Mathewson's. We all have lots going on in our lives so taking the time to eat healthy is really a difficult task. I have recently come across a few new foods that we added to our cupboards and I thought I would share them. I am by no means a nutritionist or "health-nut" but thinking about the food pyramid and how many nutrients our bodies actually needs on a daily basis is a hard thing to do.
I am a total nerd and I took a picture of some of my favorite "new" foods.
1. The Kashi Go Lean Berry Cereal is soooo good. I eat it most mornings with some extra fresh blueberries on it with ice cold milk. It is really filling and packed with protein so I feel like I have more energy to chase after my little guys.
2. The oatmeal is from Target (my favorite place) and has Flax in it. My huband said that Flax is a good Omega-3 nutrient which most diets are missing. I just think it tastes good. I also sprinkle extra fresh blueberries on it
3. Trader Joe's 21 Salute Seasonings is da bomb! Ok, I am a nerd. We put this on EVERYTHING. It is really flavorful and does not have any salt and was only $2! I like a bargin!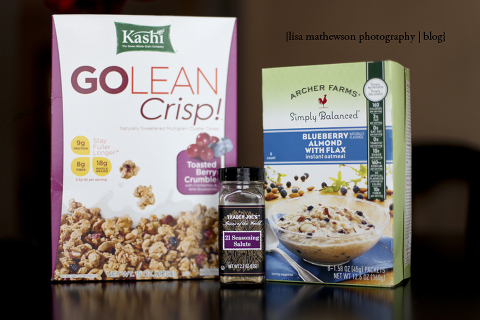 Happy eating! I have lots of recipes to post about if I could ever take a picture before I gobble it up 🙂